MN Health Staff Writer | June 17, 2020
What is Medicare Part A?
Medicare Part A is hospital insurance.


What does Medicare Part A cover?
Hospital inpatient services
Skilled nursing facilities
Hospice care
Post-inpatient home health care


More specifics on what Medicare Part A covers if you are admitted to a nursing facility or hospital:
hospital meals
semi-private room (or a private room if it is determined that it is medically needed)
special care units
x-rays, lab tests, and radiation
nursing service
any of the drugs or supplies from the hospital or facility
rehabilitation therapy you had in the hospital
recovery and operating costs


Note: all of these things are only covered for a certain amount of time


What does Medicare Part A cost?
Medicare Part A Deductibles
In 2020, the Medicare Part A deductible if admitted to a hospital is $1,408.


Medicare Part A Premiums
Typically, people do not have to pay a premium on part A, premium-free Part A. You qualify for a premium-free part A if:
- for 10 years, you or your spouse has paid medicare payroll taxes
- you or your spouse had medicare under government employment
- you get or are eligible to receive social security or railroad benefits


For the first 60 days, Part A pays all the costs of the services covered. For days 61-90 in the hospital, you will pay a set annual coinsurance amount per day. The 2020 coinsurance amount is set at $352.


If you surpass these 90 days, with Part A there is a lifetime reserve which is 60 days. These additional days also have a per day coinsurance amount. In 2020, this lifetime reserve coinsurance payment is $704 a day.


How much will I pay for Medicare Part A?
If you are 65+ with less than 40 quarters of coverage (or certain people with disabilities), in order to opt into enrolling in Medicare Part A, you will pay a monthly premium.


If you or your spouse had at least 30 quarters of coverage, you can buy Medicare Part A for a monthly premium of $252 in 2020. This is a reduced rate.


If you have less than 30 quarters of coverage, you will pay the full premium. The 2020 monthly premium rate is $458.


Am I eligible for Medicare Part A?
Do you fall under one of the following categories:
65+ U.S. citizen or legal permanent resident for 5 consecutive years
receive retirement benefits
receive disability benefits or are disabled
have ALS
have end-stage renal disease


If so, you are eligible for Medicare Part A.
When can I enroll for Medicare Part A?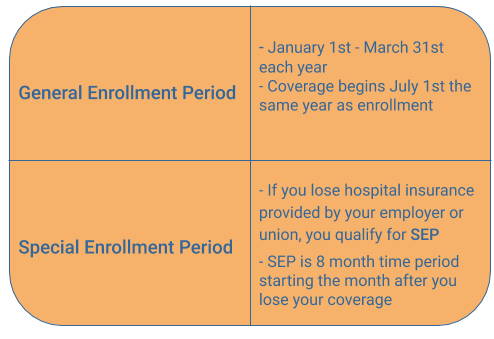 For a quote or more information on Medicare plans, click here.