Under the Affordable Care Act that went into effect on January 1, 2014, many individuals and families may be eligible for a subsidized health insurance premium through the MN Health Insurance Exchange - MNSure. Individuals and families that are not eligible for Medicare, Medicaid or the Children's Health Insurance Program (CHIP) and are not offered coverage through their employer would be eligible to apply for the subsidy. You may qualify for a low-cost or free plan. Tax Credits (also called advanced premium credits) are available to individuals making less than $48,240 per year and a family of four making less than $98,400 per year. The amount of subsidy that someone receives is based upon on their modified adjusted gross income and is on a sliding scale. The higher your income, the lower the amount of assistance and/or subsidy you will qualify for. Use our online calculator to estimate your subsidy and see what your total monthly cost will be for the available health insurance plan.
See the chart below to see if you may qualify for financial assistance through MNsure.
Will you be forced to use the new MN Health insurance Exchange to utilize a health insurance advance premium tax credit or subsidy?
Yes. Subsidies or tax credits (advanced premium tax credits) for individuals and family buyers can only be utilized if you purchase your health insurance plan through the MN Health Insurance Exchange - MNSure. You will still be able to utilize the services of a health insurance broker to purchase a plan through MNSure or outside of the exchange. Use our online health plan comparison tool to get quotes for plans both inside and outside of the exchange.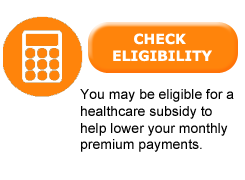 MN Health Insurance Providers