MN Health Staff Writer | June 15, 2021
What does Medicare Part B cover?


Treatments and supplies that are medically necessary to either treat or diagnose
e.g. doctor visits, ambulance services, mental health services, physical therapy, outpatient care, home health care, chemotherapy


e.g. flu shots, screenings, tests


Durable medical equipment
e.g. wheelchairs, portable oxygen equipment, walkers


What does Medicare Part B cost?


Medicare Part B Deductible


The Part B deductible for 2020 is $198.


Medicare Part B Premiums


If you receive benefits from one of the following, your Part B premium will be deducted from your benefit payment:


- Social Security
- Railroad Retirement Board
- Office of Personnel Management


Majority of people that pay a Part B premium pay the standard amount. In 2020, the standard amount is $144.60.


There may be an income related monthly adjusted amount (IRMAA) if the modified gross income on your tax return is above a fixed amount. This is shown in the table below.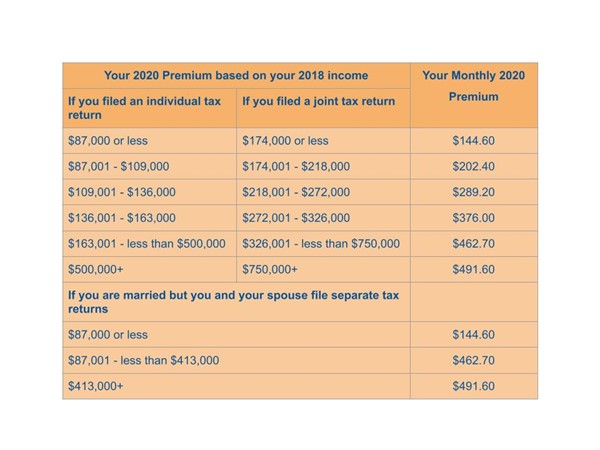 Medicare Part B Co-insurance


For most doctor services, durable medical equipment (DME), and outpatient therapy you will pay 20% of the Medicare-approved amount after meeting your deductible.  However, there are some services that you will pay nothing for, such as an annual wellness visit.


This 20% can get quite costly for things like chemotherapy and surgeries. There are Medicare Supplement Plans to help keep those expenses down.


You need to have both Medicare Part A & B to get a Medicare Supplement or Medicare Advantage plan.


What is the Medicare Part B Penalty?
There is the possibility that if you do not enroll in Medicare Part B when you first become eligible, you will have to pay a late enrollment penalty. The penalty is a 10% increase in your monthly premium for every full 12-month period you were eligible for Part B but did not enroll.


For example, if your initial enrollment was March 2018 and you did not sign up for Medicare B until May 2020, your penalty will be 20% of your premium for the two full 12-month periods you waited.